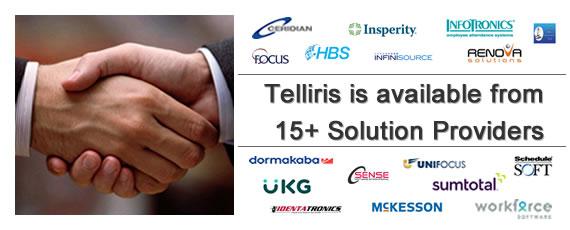 Telliris Attend is specifically designed to mobile enable Time & Attendance, Workforce Management, Human Capital Management, Absence Management, and Scheduling. It is used with over 20 products from over 15 solution providers. Several solution providers have multiple products.
Partners provide Telliris as part of their overall product line up. Organizations procuring a new solution will often find Telliris is available from all the vendors they are considering. Occasionally an organization transitioning from one solution to another will keep using Telliris since it is in common with both their old and new environment.
We act as an extension of each partner's sales, marketing, and technical team. In some cases end-customers have no direct interaction with Telliris; end-customers purely work with their primary solution provider. In other cases Telliris performs actions specific to mobile enabling the overall solution. Telliris interaction with end-customers is focused and a small part of solution implementation.
If you're an end-customer who wants to mobile enable your workforce, our partners deliver a pre-integrated solution. If your organization uses a solution not found in the Partner List, contact us. We'll check if they are integrated although not listed yet. If your organization is looking for a new overall solution and is seeking additional insight, we can assist you by recommending solutions based on the size of your workforce, your industry, and the regions where you work.
Telliris Attend is available from over 15 solution providers. Each listing provides a short overview on the provider. You can navigate to their web site by clicking on their logo.




Ceridian is a leader in human capital management with more than 100,000 clients across the globe. Their offering includes cloud-based Dayforce HCM, LifeWorks, PowerPay, and International Payroll. Dayforce HCM addresses human capital management in a single, reliable, end-to-end, SaaS application that streamlines and accelerates processes, improves accuracy, enhances efficiencies and drives business results. Telliris is pre-integrated with Dayforce Time & Attendance, Ceridian Time Solutions, and Ceridian Source Time Professional. Note, Time Solutions and Source Time Professional are earlier Ceridian products and the current time & attendance product is in the Dayforce HCM family of applications. Telliris is available for all three. If you're using one of the earlier products or Dayforce HCM, Telliris is quick and easy to implement.




dormakaba Workforce Solutions, a subsidiary of $2.3 billion dormakaba Holding AG (SWISS: DOKA), offers an enterprise-class integration platform, B-COMM, to a wide scope of organizations including manufacturing, retail, public sector, education and healthcare. B-COMM is integration software for major ERP and HCM solutions, enabling organizations to efficiently collect data for the purpose of payroll, absence management and compliance reporting. Whether deployed in the cloud or on-premise, dormakaba provides a total solution that leverages certified and validated integration with SAP Time Management, Workday Time Tracking & Absence Management, Oracle HCM Cloud, Oracle E-Business Time & Labor, Oracle PeopleSoft Labor and Microsoft AX HCM. Increasingly, companies are implementing multi-channel, automated time and attendance data collection strategies to drive down labor costs and increase workforce efficiency. The wide availability of landline and mobile phones makes IVR time collection a prime choice for employers who have remote, mobile, and field employees.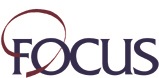 FOCUS designs, implements, and supports systems for all size businesses, from 25 to 22,000 employees. Drawing on years of experience, FOCUS has developed a powerful web-based solution. PowerTime is a comprehensive Web-based Timesheet Automation Solution. It eliminates paper timesheets and is simple to use. PowerTime also serves as an employee information portal by providing leave balances, electronic paystubs, online expense reports, and Time-off Requests.




Hanford Bay Associates is a software and consulting firm specializing in resource management and scheduling solutions for complex, multi-dimensional, human resource intensive environments. Its flagship web-based product iSNAP (intuitive Staffing Needs and Planning) extends beyond traditional methods by dynamically modeling the enterprise and operating environment with user supplied data. Their advanced and unique architecture provides significant benefits and 'real-world, real-time' knowledge immediately. The solutions improve teamwork, efficiency, and effectiveness by optimizing resource scheduling and coverage. A greater and enhanced "vision" of resource utilization and availability is provided.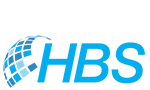 HBS is a leading provider of time & attendance solutions for small, medium, and large organizations. Its ecotime application is designed to be the most powerful and flexible workforce management system available. ecotime provides all employees with the ability to use the most appropriate time entry method for their work situation. This includes ecotime Web clock, traditional time clocks, Telliris IVR, and interfaces from other systems. Via profiles and rules, the system gives clients the ability to maintain their system and make changes to the process or work flow transactions. It meets the needs of all industries and can be customized to meet specific requirements. By tailoring ecotime to a particular company's needs and eliminating time-consuming and error-prone tasks, HBS enables businesses to operate more efficiently.




CeleriTime is a sophisticated, affordable time & attendance product by Identatronics. Human Capital Management (HCM) is high on everyone's list and CeleriTime is the latest tool for effective HCM. It provides the capability and real-time labor data necessary to pro-actively manage your workforce and provides timely information necessary to make the right choices for your organization. CeleriTime scales from a single server to a multi server N-Tier solution and handles from 10 to 10,000+ employees. It has a modular design where each module focuses on a set of related tasks and users can be granted access to the modules necessary to do their job.




http://www.mytimeforce.com/attendance/timeforce
Infinisource provides leading edge HR, payroll, time & attendance, benefits, and compliance solutions for small and medium size employers. They are committed to exceeding the expectations of clients through unmatched service and quality guarantees. Clients have direct access to a dedicated account manager and satisfaction averages 98% (determined by monthly surveys). There is no software to purchase and maintain. The iSolved solution truly integrates all TimeForce, HR, Payroll, and Benefits data. Everything is accessible from a single login. It is fully integrated and completely scalable, as an organzation grows, iSolved expands with no need to change platforms. Infinisource serves over 63,000 businesses worldwide, is SSAE 16 / SAS 70 certified, and processes payroll in all 50 states.




Attendance Enterprise is a web-enabled, scalable time & attendance solution that meets the needs of diverse organizations and employee groups, from the manufacturing floor to the executive suite. It's cost-effective, easily deployed and fits seamlessly into an organizations existing computing environment. InfoTronics hosted solution, Attendance on Demand is a cloud-based time and attendance service for highly secure, cost-effective labor management. It improves employee time tracking, controls overtime, improves employee attendance habits, and reduces labor expenses. InfoTronics has provided over 20,000 organizations of all sizes with cost-effective solutions for over 30 years via an extensive network of over 50 reseller dealers all of which are trained and certified by InfoTronics.




http://www.insperity.com/products/time-and-attendance
Insperity, a trusted advisor to America's best businesses for more than 27 years, provides an array of HR and business solutions designed to help improve business performance. Its Business Performance Advisors offer the most comprehensive suite of products and services available in the marketplace. Insperity delivers administrative relief, better benefits, reduced liabilities and a systematic way to improve productivity through its premier Workforce Optimization solution. Services include HCM, payroll, time & attendance, performance management, organizational planning, recruiting, employment screening, financial services, expense management, retirement, and insurance services. Insperity delivers its solution by entering into a co-employment relationship and assumes or shares many of the responsibilities of being an employer.



http://www.mckesson.com/providers/health-systems/department-solutions/ca...
McKesson''s Workforce Management Solutions suite is a clinically-driven healthcare staffing management system that integrates four proven, best-of-breed products. Designed to empower both hospital management and staff, the suite helps maximize staffing effectiveness by aligning staffing with patient demand. Designed exclusively for the complexity of the healthcare continuum, McKesson Time & Attendance is a labor management system that improves payroll efficiencies and minimizes the time staff spends keeping track of hours. It improves accuracy, increases productivity, and ensures regulatory compliance by streamlining time entry, time approval, and accrual management processes. Timely data provides true integration between staff scheduling and payroll, showing budget versus actual dollars spent by cost center, service line, facility and enterprise.




RENOVA Time & Attendance is a component of the RENOVA HR Suite. It automates and standardizes time collection and approval processes. Time & Attendance works seamlessly with RENOVA Human Resources and RENOVA Payroll to provide your organization with a simplified unified user experience accessible via the Internet and mobile devices. With RENOVA Time & Attendance you can reduce labor costs, minimize compliance risks, and increase worker productivity. RENOVA is available in Cloud / SaaS and On-Premises / Licensed format. They provide enterprise HCM solutions in Puerto Rico, the Caribbean, and internationally.




Workloud by ScheduleSoft lowers the unit labor cost of every production order by connecting human resource usage to the labor standards in a production schedule. Demand-Driven workforce management is at the core of the product. Around this core, Workloud goes from punch to pay and everything in between. It's Internet based, user sustainable, and there''s no need for costly IT infrastructure. The ScheduleSoft subscription process is handled in 4 quick and easy steps. It is instantly available from the cloud anywhere, empowers employees to support a lean operation anytime, anywhere, from any device, and enables flexible labor management driven by an organizations production schedule. ScheduleSoft provides business change consulting at no additional charge.




Evertec is a leading provider of HR-Sense, an integrated and flexible human resources management solution for a wide range of industries including manufacturing, healthcare , retail, hospitality, government and education. HR-Sense e-Time & Attendance uses a self-service method of accurately gathering time worked for each employee. It includes work order and job tracking, benefits tracking, scheduling calendar, exempt time tracking, and much more. They have over 1,500 professionals operating in 7 countries within the Caribbean Basin, Latin America, and United States.




http://www.sumtotalsystems.com/enterprise/workforce-management/
SumTotal HCM with Talent Expansion provides a whole new approach to discovering, developing, and unleashing the hidden potential of an organizations workforce. SumTotal Learn, Talent, Work, and elixHR help employees be better at their jobs - while doing them, offers a virtual system of record for all applications, and links performance management, compensation, and succession planning to provide HR metrics and workforce analytics. SumTotal Work offers a variety of data collection methods including Interactive Voice Response (IVR). IVR is the solution for employees who do not have access to other touch points. It's specifically designed for time and labor data collection, provides anytime - anywhere access - using any mobile or landline phone, and is tightly integrated with SumTotal Work Time & Attendance.




Drawing from decades of leadership in HCM and workforce management, UKG's products and services drive industry-leading productivity, visibility, and workplace compliance while empowering all employees—salaried, hourly, frontline, office-based, full-time, part-time, and gig. UKG will connect employees to their work and their colleagues, develop strong leaders and teams, provide insights that promote better business outcomes, and help organizations develop people-centered HR programs and effective operations—demonstrating that, when companies focus on caring for their people, they will see more engaged employees that yield positive long-term results.




http://www.unifocus.com/workforce-management/time-and-attendance
UniFocus is exclusively dedicated to providing Hospitality, Service, Retail, and Healthcare Industries with the most comprehensive Workforce Management systems, Financial Management and Survey Solutions available globally. Its technologies are designed to give the most accurate real-time view of business operations to the most granular level. UniFocus' Time & Attendance displays actionable labor reporting, giving crucial information to make profitable decisions about valuable employees. Customer service levels are improved creating a competitive advantage. The products are cloud-based making processes easier and drastically reducing IT costs by eliminating the need for hardware and local servers; thereby, freeing up IT teams allowing them to be innovative in helping expand an organizations business.




http://www.workforcesoftware.com/products/data-collection
WorkForce Software is making work easy for the connected workforce around the globe. They provide enterprise and mid-sized organizations with real-time insights backed by pre-packaged domain expertise and proven flexibility. Their cloud-based WorkForce Suite empower employees and managers to digitize time and labor processes, optimize demand-driven scheduling, simplify absence management and enable strategic business insight. With complete visibility across all employee groups and locations, WorkForce Software equips organizations to reduce labor costs, demonstrate compliance and boost employee engagement, all while maximizing operational efficiencies. Ideal for organizations with mobile, field, and remote employees, their phone-based interactive voice response (IVR) option easily collects employee time, labor distribution, and billing codes. Employees can also report absences, as well as departments and locations worked. A multilingual solution, IVR supports call scripts in multiple languages to provide familiar data entry prompts for all employees.
Become a Partner

Telliris partners leverage Telliris' 25 years of telecommunications knowledge and experience. We purely focus on telecommunications product and services. Our products and services are designed to complement each of our partners' solutions.
Telliris is actively recruiting leading time and attendance solution partners. To learn more about the Partner Program please contact us by phone or email.