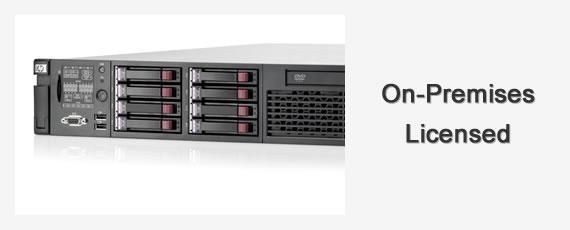 No other system offers the capability and reliability of Telliris Attend. This is due to its data driven design and architectural heritage which literally predates every other solution in the marketplace.
Scalability is unlimited. Each server handles up to 250 simultaneous users. When used for Time Clock style time entry, this is equivalent to 250 traditional time clocks. Many organizations deploy multiple servers to meet their organizations business continuity requirements. Organizations needing high capacity use multiple servers which operate independently of one another.
The system architecture is designed for telecommunications processing with continuous 24x7 operation. It uses the Linux operating system, the same infrastructure as used throughout the telecommunications industry and Internet. Your data center staff can install Telliris on servers provided by their preferred vendor such as Dell, HP, or IBM. There is no proprietary hardware used.
An on-board SQL database enables the system to both handle a high number of simultaneous users as well as be resilient to a fault occurring on the time & attendance system or data communication link between systems. This is similar to the way traditional time clocks are required to be tolerant of data communication or time & attendance off-line situations.
Telliris Attend is pre-integrated with each time & attendance system. Data communication is designed and implemented hand-in-hand with our partners. Telliris Attend interacts with your time & attendance system whether it's On-Premises located in your data center or Cloud located at your time & attendance provider's data center.
Data flow between Telliris and your time & attendance system is fully automated. If the connection between systems is out of service Telliris Attend continues operating as usual and your workforce will be unaffected. Once the time & attendance system is available, data queued during the off-line period is automatically sent.
The industry standard VoIP SIP interface enables your Telliris server(s) to be connected either to your PBX or telephone company in an easier manner compared with older analog and ISDN connections. This modern interface also makes it easier and less costly to implement an active-active multi-server environment with systems running in production located at geographically dispersed locations.
All menus, prompts, and messages are supplied. They are recorded by professional voice talent. The professional audio is in-tune with our best practices user interface.
Monitoring, Administration, and Updates
The system is fully supported and maintained using remote access. Periodic maintenance is needed infrequently. The system requires no active administration. All configuration, administration, maintenance, and monitoring tasks are performed using the Telliris Web Console. It is very comprehensive including features that span from viewing employee, labor, and transaction data through viewing computer server vital health condition. System software and updates are applied using this console.
Software loading is performed using a one-step process which installs all software ranging from the Linux operating system, all infrastructure components, through to the Telliris application itself. This "bare metal" installation will take you from "new server "out of the box"" to ""ready to place first exercise call"" within one hour.
A Time & Attendance Partner Personality Pack is then applied using the Telliris Web Console which mates the system to your environment. Lastly, an End-Customer Personality Pack is applied which places your organization specific audio menu's, prompts, messages, and call dialog configuration onto the system.
All aspects from initial planning through ongoing system operation are detailed in four comprehensive documents; Site Preparation, Installation Part I, Installation Part II, and Administration & Troubleshooting.