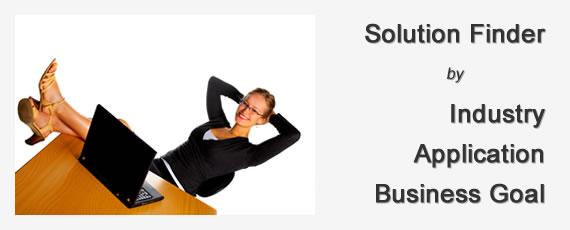 The Solution Finder has been made to fit your way of thinking. Many people want to know "what are others in my industry doing?" Others have a goal - a particular situation they want to improve.

Many solution providers only list "by application category". We make it easier to find the information you need in the perspective you prefer - By Goal, By Industry, By Application.


By Industry
Find out what others in your industry are doing. This is the quickest way to review the methods of time entry, absence management, and employee self service in use by organizations like yours. Select your industry from a list and get best practices information specific to your organizations unique needs and requirements.
By Application
This is the most common and traditional way to look. But it's dependent on your knowing what applications are available. If you're very familiar with time & attendance, absence management, and employee self service, you can quickly get information on the applications you're interested in.
By Business Goal
If you have a specific goal in mind, this is where to review applicable solutions. If you're thinking "I need to solve a problem, or I need to improve..., you'll quickly find applicable solutions to your business goal here.